It's the time of year when I should be focusing my purchases on others, ready for Christmas. Unfortunately all this does, is fuel my longing for products that I happen to spot along the way. There are so many things that I want -need- this festive period that I have no idea where to begin!
First up, Dior in "Rouge Dior 999", because even though I already own over 9000 red lipsticks, I really need this one! I don't know why, I've never been a massive fan of this brand before, I love their perfume but that's mostly where it lies. I keep seeing beautiful adverts for this lipstick though and I don't know if it's the arty "chains" it is photographed with or how in the right light, the casing looks like it's made of studs, the fact of the day is – I want it in my life!
For £26.00 from House of Fraser, it could be yours (and mine)
Now, lip Crayons are still quite a craze. Owning a few I think they are OK but most are not shades I would wear to important places such as the stage.  The NARS Velvet Matte Lip Pencil in "Dragon Girl" and also "Red Square" both look absolutely amazing. Unfortunately only the Red Square colour is available on the UK NARS website which makes me very sad.
They start around £17.50 and you can pick them up directly from NARS.co.uk

I'm not one to lust over Loreal Skincare, but browsing a beauty magazine I hade a lot of fun playing with one of their QR codes which scans your face and tells you all about what skin tone you have.
The Loreal Skin Perfection range promises to "transform the appearance of skin quality" with tone looking more even and pores virtually undetectable. With wild statements like this I simply must at least try the Day Moisturiser.
For a very reasonable price of £9.99 I shall be picking one of these up from Boots although I may wait until -after- Christmas.
I've been swallowing feelings of envy for a while now over this pallette. Seeing a lot of our fellow beauty bloggers reviewing theBalm "Nude tude" palette, with 12 beautiful neutral colours I really really want this.
The cheapest I have found this is £26.00 from Feel Unique. Can I resist this for a few more months?
Gem and I are going to a friends wedding on Saturday. (Evidence of our hen party shenanigans found here) With the theme being Red and Black, naturally my dress had to be red. After having a shoe dilemma and searching the web for a perfect match to my 50's dress I came across these:
Iron Fist Little Lamby Polka Dot T-Bars. They retail around £44.00 definitely not an amount of money I am willing to spend on shoes right now, but I will be purchasing these as soon as I can physically justify it. (Being someone who never/rarely wears heels.)
My rubbish girl skills for walking in heels aside, look at them! They are absolutely perfect, it's like they one day, decided they were going to make a shoe for "Pants and friends."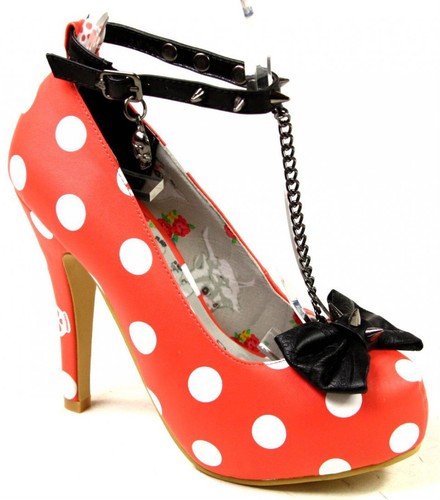 Lastly, before my bank closes and ties all contact with me. O.P.I Christmas 2013 Liquid Sand editions modelled by Mariah Carey. At the very least I must have in my possession "Kiss me at midnight" and "It's Frosty Outside" for all of my Christmas nail art fun!
Full size prices range from £11.00 but you can pick up the miniature versions in Christmas sets for about the same price.
So there we have it, my October and spilling rather heftily into November most wanted. Are there any things you are lusting after this time of year? Let us know!
Totally hellbent for spending all the monies on all of the shiny things
-Pants